2019 Greenville Kennel Club, Annual All Breed Dog Show, July 28, 2019 Greenville, SC
Yenta (Suddanly Lady Smith) - Best of Winners Four Point Major, Bred by Exhibitor Dr. Sue "Campeau" Kirkman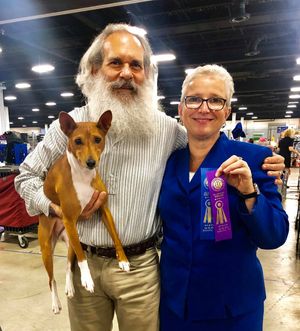 2019 Moore County Kennel Club, Annual All Breed Dog Show, May 4, 2019 Pinehurst, NC
Nelli (Ch.Suddanly Signora Benelli) New Champion - Best of Winners Four Point Major, Owner Handled by Pam Quinn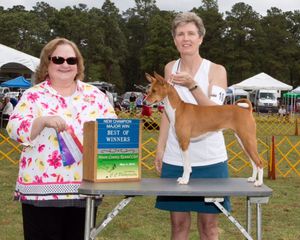 2018 Raleigh Kennel Club, Annual All Breed Dog Show, September 2, 2018 Raleigh, NC
Nelli (Suddanly Signora Benelli) got Best of Winners & Opposite Sex, Owner Handled by Pam Quinn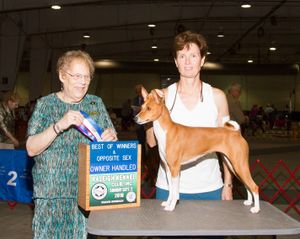 2018 Greenville Kennel Club, Annual All Breed Dog Show, July 29. 2018 Greenville, SC
Nelli (Suddanly Signora Benelli) got Best of Winners - Four Point Major, Owner Handled by Pam Quinn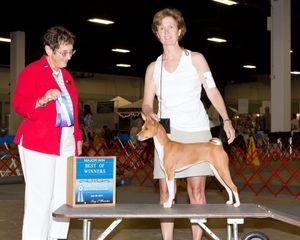 2017 Durham Kennel Club, Annual All Breed Dog Show, September 2, 2017 Raleigh, NC
Simba (Ch. Suddanly Unexpected King of The Pride Land) got Best of Winners - (New Champion)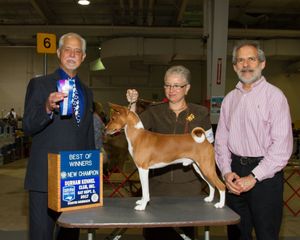 2017 Carolina Kennel Club, Annual All Breed Dog Show, August 20, 2017 Greensboro, NC
Simba (Suddanly Unexpected King of The Pride Land) got Best of Winners - (2nd Five Point Major of the weekend)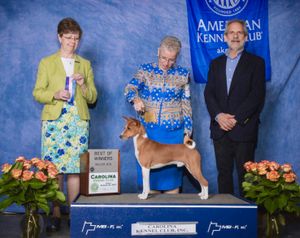 2017 Carolina Kennel Club, Annual All Breed Dog Show, August 19, 2017 Greensboro, NC
Simba (Suddanly Unexpected King of The Pride Land) got Best of Winners - Five Point Major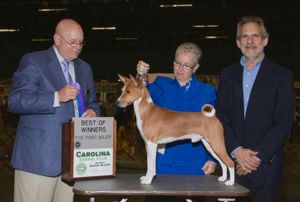 2014 Basenji Club of America Inc. National Specialty ASFA Trial, September 22, 2014, Gray Summit, MO.
A very exciting time for Sunddanly Basenji's and co-breeder Sunbird Basenji's when Sam represented us well, winning Best of Breed.  Sam's Dad's, Mike and Adam, were on hand to witness the win.  They are very proud of their boy.  Mike said it was a magical day with beautiful weather. 

2014 Moore County Kennel Club of North Carolina, Annual All Breed Dog Show, September 13-14, 2014, Pinehurst, NC
Simba has gotten off to a great start in conformation by taking Winners Dog on Day 1 for 2 points, and Reserve on Day 2.  Randy and Anne have caught the dog show bug, so we expect to see Simba in future shows soon.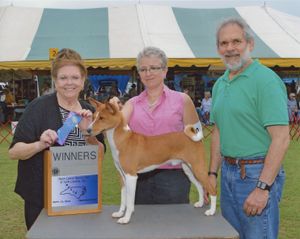 2014 ASFA Trial, May 25th, 2014, Fairburn, GA
Sam became an ASFA Field Champion after having only coursed for 5 months, by winning the Open Stake and Best of Breed!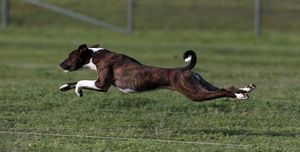 2014 ASFA International Invitational, April, 2014, Ocala, FL
The weather started off great, but afternoon brought very heavy showers which delayed coursing.  By afternoon, the clouds parted and the fields had already drained, which allowed for some great coursing.  Sam had some stiff competition in the Open Stake and came up shy of first, placing 2nd.  On day 2, with incredible weather, Sam prevailed and won the Open Stake, followed by winning Best of Breed winning the Sheena Trophy.  At the end of the day, Sam showed he has great heart and stamina.  He competed for Best in Event with a beautiful run ending near the top of the leaderboard.  

2014 North Georgia Hound Association in Perry, Ga April 13, 2014
I was really happy to travel down to Perry with Dare and Flare, where I got to see and visit with some great friends.  In Perry, I handled both Ellie and Sam.  Both showed well in the ring, but it was stiff competition.  Ellie did win her 12-15 Class. 

2014 ASFA Trial, March in Tallahassee, FL
Sam won Best of Breed both days and went on to win Best in Event, taking home a beautiful Robert Nix Memorial Trophy honoring Les Pekarski.  Already a Multiple Best in Event winner!

2014 Raleigh and Fayetteville Kennel Club Shows, March 22-23, 2014
Ellie had a great show in Raleigh, getting her first 2 points towards her AKC Championship, placing Best of Opposite and Winners!  Similarly on Sunday for the Fayetteville Show, Ellie placed the same for 1 more point.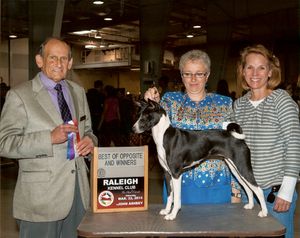 2014 January Jam, ASFA Trial, January in Camden, SC 
Another great event for Sam, winning Best of Breed on Sunday, against some very tough competition, namely his father Eagle!  Sam went on to win Best in Event getting his name on the Stewart Holcomb Memorial Trophy!  

2013 was a great year.  Wrinkle finished his AKC and ASFA field championship and now needs just one point for his show championship. Red Hat needs just 1 point on the field to gain his dual championship.  Dennie finished her AKC and ASFA field championships and her show championship to become another Suddanly Dual Champion/ASFA Field Champion. Flare was a slow starter in the show ring, but finished up in the summer with 3 consecutive wins and 3 majors to become a dual champion/field champion.  Cori started both his ASFA and his AKC coursing titles and has all his placements.  Due to a career change, then a few blown discs in my neck and pretty severe neuropathy in my left arm, we were unable to compete in the fall and winter of 2013, but watch for us again in 2014.  We are really excited about seeing all our friends again.

2013 Winter Challenge and Region 7 Invitational, December, Fairburn, GA
Samwise the Brave, "Sam", started his coursing career with several days of coursing.  Topping off the weekend, he won the Open Stake of the Region 7 Invitational and went on to beat some tough competition for Best of Breed! 

2013 International Invitational, April 13-14, 2013, Muncie, IN
The weather was horrible--freezing cold, wet and windy, but the runs were awesome.  I "borrowed" Ginger and Red Hat from Bill and Mary.  I also took Eagle (of course),  Breeze, Dennie and Flare.  We came home with 3-2nd's, 3-3rd's, 3-4th's and 2-NBQ's.  And then there was Ginger!  She had a great day on Saturday taking 1st in the Open stake and then running against some of the top basenjis in the country, she took Best of Breed and the Merv Baur Award!  Thank you Bill for trusting me with your dogs for the weekend!  It was a real thrill to slip such a great new courser.  We expect more great things from Ginger in 2014.